Credit: jcrew.com
Guess what? Geek is chic nowadays. And not just the thick-rimmed glasses...those have been around for a few years...I'm talking about the entire geek package (minus the pocket protector though). Plaid shirts, bow ties, rolled up jeans, oxfords, blazers, cardigans, suspenders...it's getting serious. And I'm OBSESSED!
You don't have to go completely "Revenge of the Nerds" style and put all of the above together in one outfit. But, you want to incorporate a classic nerdy piece and pair it with a basic jean or cord pant, preferably a skinny fit. A bootcut or flare doesn't really make this look work. Then you want to make the overall look more casual: roll up your sleeves, don't button your shirt all of the way, tuck in only a portion of the shirt. The more casual, the better!
Here's my take on geek chic:
I wore this last Saturday to brunch with my friend, Arianne. It was the coldest morning thus far this fall, so I was super cozy and warm with the plaid woven and v-neck sweater. I rolled my sleeves and even rolled my jeans a bit...it just looked better with my old-school oxfords.
And speaking of oxfords...my favorite part of this outfit? My Bass saddle oxfords. Love!
Looking forward to playing around with this trend. I'm on the hunt for a great button cardigan that I can mix and match for more nerdy outfits. I may actually go with this one from J. Crew...with a pair of colored twill pants (another huge fall trend), basic white tee, and my oxfords. See how easy it is to be geek chic?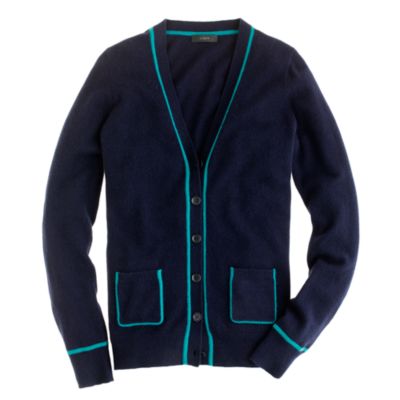 jcrew.com
Here are the links to my outfit (or similar items):
J Crew Plaid Woven (mine is last season, but here's another great plaid)
Aqua Cashmere V-Neck Sweater
7 For All Mankind Gwenevere Skinny Jean
Bass Women's Saddle Oxfords
Movado Women's Museum Moderna watch
Helen Ficalora cross charm
Alex Woo charm bracelet actually, this was a gift from Arianne :)
Chanel Glasses (these aren't quite the same, but pretty close)
Are you going to try this trend? If so, email me pictures (sincerelyobsessed@gmail.com). Would love to see how you make geek look chic!